A round table on the integration of migrant women was held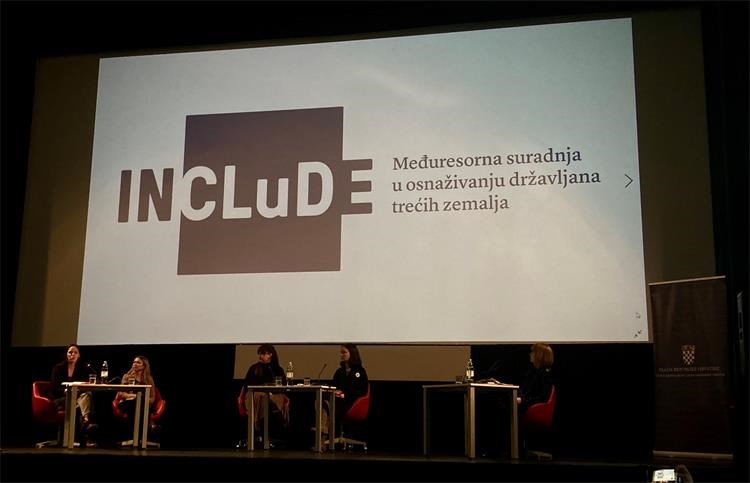 On 8 December 2021, a round table "Integration of Migrant Women: Opportunities and Challenges" was held with the aim of presenting key challenges in the integration of migrant women with a focus on women granted international protection
The round table was a part of the activities of the INCLuDE project - Interdepartmental Cooperation in Empowerment of Third-Country Nationals, co-financed by AMIF, implemented by the Office for Human Rights and the Rights of National Minorities and organized as part of the Human Rights Film Festival.
Participants in the first panel of the round table were representatives of the Croatian Employment Service, the Croatian Red Cross, the Center for the Culture of Dialogue and Public Open University Zagreb, who discussed challenges, opportunities and experiences in this area. The biggest challenges that arise are inclusion in the community and the labor market, non-involvement in the development of programs that help with integration, insufficient number of translators and cultural mediators, and challenges that come with cultural differences.
Representative from the Center for the Culture of Dialogue, Sonja Krnjeta Ivanović, presented the project "New Neighbors", which is implemented in cooperation with the Ministry of Interior of the Republic of Croatia, and contributes to the full integration of persons with international protection into Croatian society.
Ivana Sabo from the Public Open University Zagreb presented the project of the Public Open University Zagreb and the Jesuit Office for Refugees "TrAZILica - social inclusion and strengthening the competitiveness of asylum seekers in the Croatian labor market". The project offered language courses and vocational training programs for individual occupations.
The representative from the Croatian Employment Service, Elizabeta Filipaj, pointed out that it is necessary to motivate women and understand the cultural differences that come with them. Asylum seekers need an advisor who will explain their rights and obligations when entering the labor market. Active employment and public policy measures are needed. She said that there are currently 39 asylum seekers in the Republic of Croatia, the largest number of whom was registered in the City of Zagreb.
Lana Vučinić from the Croatian Red Cross presented the project "Action of Red Cross on Integration of Relocated and Resettled Persons - ARCI", with the aim of empowering women to facilitate their social inclusion in the local community. She pointed out that it is important to include the beneficiaries of the project in the development of the program, because after the beginning of education for a particular chosen profession - there was no interest at all.
In the second panel, experiences were exchanged by migrant women currently living in the Republic of Croatia.
The round table was followed by a documentary by German director Marie Speth, Herr Bachmann und seine Klasse (Mr. Bachmann and His Class).
Page