EMN NCP Croatia national conference "Women in migration"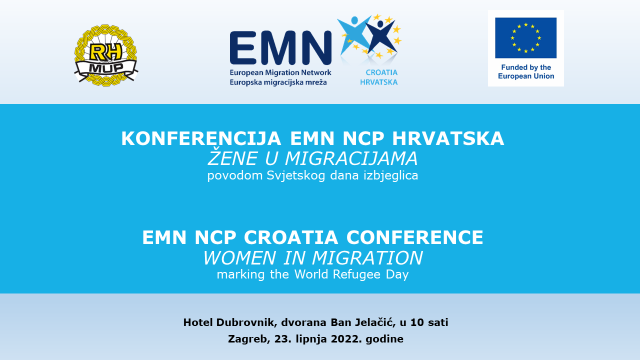 EMN NCP Croatia and the Ministry of the Interior of the Republic of Croatia are organizing a national conference "Women in Migration" in Zagreb and online, Thursday, June 23, 2022
In most European countries, the female share of migrants remains consistently high. What do we know about these women on the move? Women migrate to Europe for a variety of reasons and over half of all migrants in the OECD and EU countries are women.
The conference will provide an opportunity for representatives of Member States, EU institutions and international organizations to exchange their knowledge and experience on women in migration, as well as to address the integration of migrant women.
In addition, the conference will give a chance to reflect on steps taken by the European Commission related to the adoption of the EU Action Plan on Integration and Inclusion 2021-2027 and to give insight into new EMN study Integration of Migrant Women in EU: Policies and Measures. In addition, the emphasis of the conference will be on women in migration – personal experiences of migrant women.
The conference is planned as a hybrid event that will be streamed online and attended in person. You can join the conference by clicking the
link
.
Here you can find
agenda
and
concept note
.
For more information about the conference, send an e-mail to
emn@mup.hr
.
Page